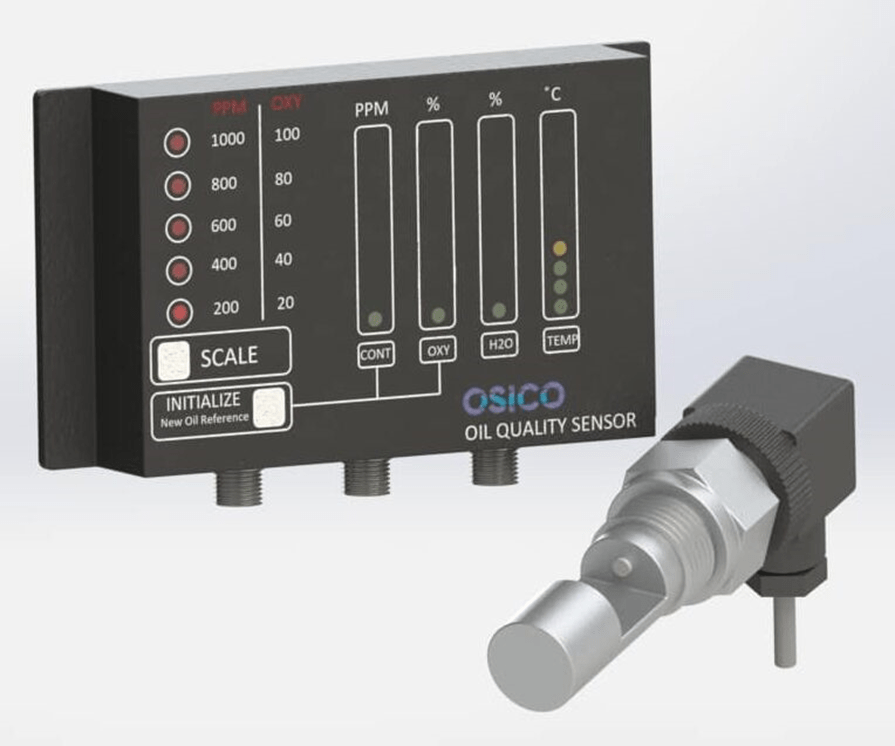 Particle Contamination, Water Contamination and Oxidation.  Any one of these nuisances can spell disaster for lube oil.  Of course, you run a lab oil analysis program so you know periodically what these levels are in a machine.  But what if you could monitor these parameters in real time?
Osico Oil-Mon is a 4-in-1 oil quality sensor for monitoring 4 of the most common causes of lube failure.  This two piece solution comprises a probe that is installed in contact with the oil and a separate display and electronics module. Communication via RS-485 offers additional flexibility for remote locations.
The Oil-Mon is equipped with an optical color & particle analyzing sensor.  Able to detect particle contamination up to 1000ppm while analyzing the oil color for oxidation.
As if that wasn't enough, we have also packed in a water contamination sensor and temperature monitoring!  Water contamination is determined by checking the Relative Humidity (RH) of the oil in real time. Oil-Mon is the real time answer to many common lubrication failure modes.
Find more at our website (https://osico.systems/home/products/oil_quality_sensor/ ) or download the datasheet ( https://osico.systems/wp-content/uploads/2022/08/Oil-Quality-Sensor.pdf ) .
0-1000ppm particle contamination detection
Oil oxidation by color analysis
Water in oil contamination detection
5 Thread connection
Programmable Red/Amber/Green visual display
Temperature monitoring from -20 to +85 deg C