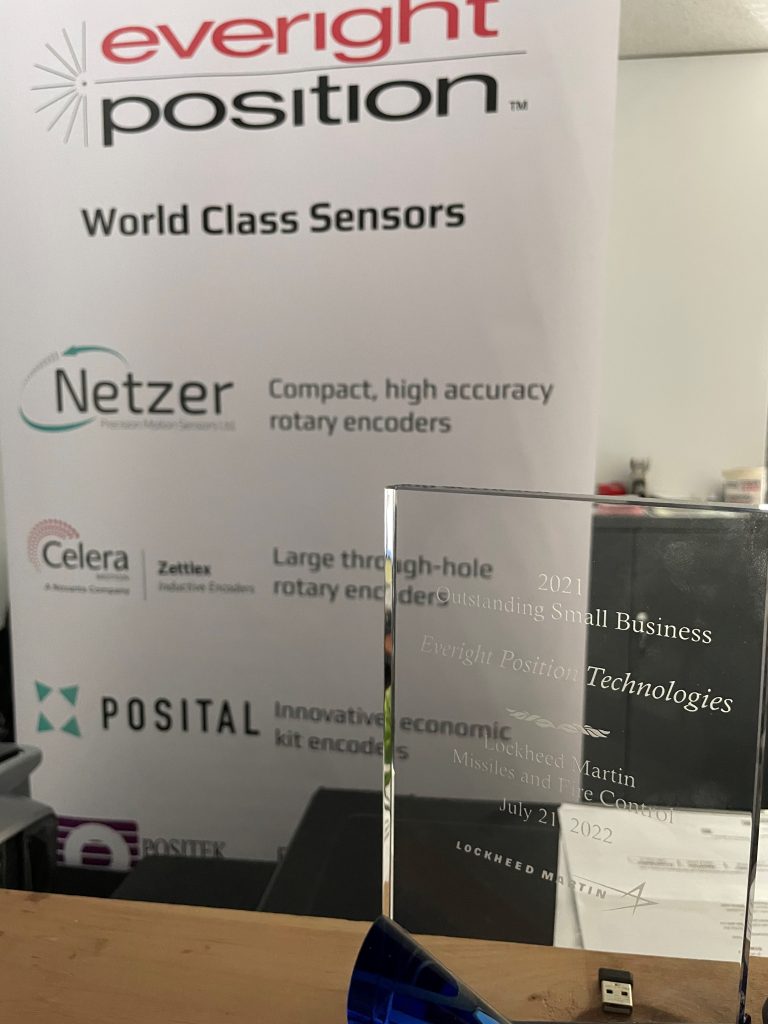 Everight Position is one of only 12 small businesses to receive the annual award
Bala Cynwyd, PA,  September 2022
Everight Position is pleased to announce that they have been named an Outstanding Small Business Supplier by Lockheed Martin Missiles and Fire Control and the Lockheed Martin Global Supply Chain Operations Team. The Small Business Supplier award is given annually a very small number of Lockheed Martin's supplier network in recognition of a supplier's efforts and support in challenging situations.
George David, President of Everight Position reflects "Receiving this award acknowledges Everight Position's commitment to customer service that comes with every sensor that we sell. Whether it's to defense, medical, robotics or industrial automation, Everight Position strives to provide one-on-one engineering support and service that this award attest to." Lockheed Martin elaborates describing Everight Position's "agility, ingenuity and unwavering dedication" and as going "above and beyond the purchase order scope" and "willing to support calls, emails and other general inquiries, at almost all hours."
About Everight Position
Founded in 2008, Everight Position is a specifying distributor for rotary encoders as well as linear, tilt and liquid level sensors. Working with world-class sensor manufacturers such as Netzer Precision, Positek Ltd, POSITAL, Gill Sensor and Controls and Zettlex Ltd, Everight combines the best hardware with one-on-one application support. By striving to understand a specific customer's needs, Everight Position helps lead customers to the right solution, and furthermore works with vendors to customize products when necessary, in an economical manner while maintaining practical lead times.
Further information
Jarrod Orszulak
Everight Position Technologies Corporation
29 Bala Ave, Ste 124
Bala Cynwyd, PA 19004
jarrod@evrtp.com  , 856-727-9500